47th QubicaAMF Bowling World Cup in Suedafrika
20111207
Both the women's and men's finals of the 47th QubicaAMF Bowling World Cup in Johannesburg produced some of the finest bowling ever seen in the tournament.
The women were first up with Sandra Andersson of Sweden hitting 267 in her first game against Diandra Asbaty (USA) 217. Diandra came back to take the second game 247 to 219 so we were in for a decider. Diandra hit strike after strike while Sandra left a split in the 7th frame. Even so she finished with a 243 but it was not enough to beat Diandra's superb 279.
Diandra then moved on to play the top seed, Aumi Guerra of the Dominican Republic, so we were certain to have a two-times champion. Aumi shot 266 in her first game despite a split while Diandra never really got going and despite an all closed game finished on 201. The final game was nip and tuck all the way with first one then the other taking a slim lead. By the 10th frame, Diandra needed to strike with her first ball to take the title but she left a 10 pin, finishing on 199 to Aumi's 202. So Aumi became only the second person ever to successfully defend the title. She said afterwards: "I have been so focussed on my play that I have even stayed away from Facebook! Now I am going to have lots to eat, go swimming, go to the beach and chill!"
The first match for the men was between the Ukraine's Mykhaylo Kalika and Jason Belmonte of Australia. Mykhaylo was clearly nervous and hit 203 in his first game to Jason's 237 but it was a different story in the second game when he hit 266 beating Jason's 248. So again we were into a deciding game, which Jason won by 266 to 185.
Jason then came up against Tommy Jones of the USA. The first game was high scoring, Tommy winning by 279 to 259. Again, Jason came back and won the second by 247 to 216. So yet again we needed a decider. And what a game it was, strike for strike until Tommy opened the 8th frame, and finished on 236. It was up to Jason to close the 10th which he did in style finishing with 259 and becoming the first Australian man to take the title. "I was a long way in the lead in 2004 in Singapore, and got knocked out early on," he said, "and again I led the field in St Petersburg in 2007 and then I lost in the final. So I was happy to go in as number two seed this time. "All credit to Tommy for some great bowling. He always looked as if he was going to strike. And I do sympathise as I know what it feels like to lead the field and not win."
Jason's three game total of 765 is a new finals record, just beating the previous mark of 764 by Petter Hansen of Norway, set in Singapore in 2004.
20111206
With just the position round to go in the round robin, the two players who had topped the men's leaderboard all week, Tommy Jones of the USA and Australia's Jason Belmonte, played each other but were well clear and sure to make the stepladder finals.
Lucas Legnani (Argentina) was 93 pins behind Mykhaylo Kalika of the Ukraine so catching up even with 30 bonus pins for winning, seemed unlikely. But it looked as if he might do it. Mykhaylo was not bowling well and needed a double in the 10th: he got it!
With the women, it was a similar position. Aumi Guerra and Diandra Asbaty were in first and second so they played each other and could not be caught. Sweden's Sandra Andersson was 108 ahead of Cherie Shi Hua Tan of Singapore. A 259 from Cherie was not enough as Sandra shot 246.
The standard of bowling was immense. The men's overall average was 235. For the women, there were only eight games below 200, and the overall average for the eight women was 222.
Tommy shot a new eight game bloc record of 2088, beating the previous mark of 2057 held by Osku Palermaa of Finland and set in 2006, in Caracas.
So our top three men are Tommy Jones of the USA, Jason Belmonte from Australia, runner up in 2007, and Mykhaylo Kalika from the Ukraine, the first man from Eastern Europe to make the stepladder final.
And our three women finalists are defending champion Aumi Guerra of the Dominican Republic, Diandra Asbaty of the USA, our champion in 2006, and Sandra Andersson from Sweden. Despite the strength of bowling in Sweden, Sandra is the first Swedish woman to make the top three since 1995 (Susanne Olsson).
20111206-1

Spectators at the Let's Go Bowling Northcliff centre went wild this afternoon when Francois Louw, the local player, made it into the top eight. And what a finish! With one game to go, Steve Thornton of England was 53 behind Francois but Steve started striking and hit the first eight. Francois kept his head and finished strongly, with a 246. Steve had to strike out but left a single pin in the 9th frame, finishing with a 269 so that Fran made it by 29 pins. Fran said afterwards: "Whew! I made it! I knew I had to hit a good score but I did get lucky as two of my strikes were Brooklyn! 29 pins sounds a lot but it didn't feel like it down on the lanes."
This session also saw two more 300 games, including a second perfect game of the tournament for Jason – to go with the 300 he rolled in the QubicaAMF Bowling World Cup in St Petersburg in 2007. Biboy Rivera of the Philippines, who finished third in the tournament last year also shot a perfect game.
Top eight are:
| | | | | |
| --- | --- | --- | --- | --- |
| 1 | Tommy Jones | USA | 6739 | 240.68 |
| 2 | Jason Belmonte | Australia | 6702 | 239.36 |
| 3 | Mykhaylo Kalika | Ukraine | 6681 | 238.61 |
| 4 | Kimmo Lehtonen | Finland | 6534 | 233.36 |
| 4 | Lucas Legnani | Argentina | 6534 | 233.36 |
| 6 | Mats Maggi | Belgium | 6520 | 232.86 |
| 7 | Biboy Rivera | Philippines | 6500 | 232.14 |
| 8 | Francois Louw | South Africa | 6470 | 231.07 |
20111205
Lisa John of England started the day 158 pins below 8th place but a superb 1901 over her eight games pulled her right up to qualify for the round robin.
It was so close between her and Evgeniya Zelenkova of Russia. Evgeniya was 37 pins behind with one game to go, but bowled really well. The tension remained till the last frame with her 248 not quite being enough as Lisa shot 215.
Evgeniya misses out on the final eight by just four pins, the second time she has finished in the unenviable 9th spot, as she did in Melaka, Malaysia two years ago.
Aumi Guerra from the Dominican Republic continued her amazing form hitting 1885 over the eight and finishing on top of the leaderboard.
The women will return to the Northcliff Bowling Centre tomorrow morning for the eight game round robin which will determine the three to go forward to the televised step-ladder final. Pinfall carries forward into the round robin.
The top eight are:
Aumi Guerra Dominican Republic 6748 241.00 average
Diandra Asbaty USA 6408 228.86
Cherie Shi Hua Tan Singapore 6242 222.93
Sandra Andersson Sweden 6199 219.93
Krista Pollanen Finland 6158 219.93
Liza Clutario Philippines 6094 217.64
Wendy Kok Netherlands 6072 216.86
Lisa John England 5984 213.71
20111204

The USA's Tommy Jones leads the field after the qualifying 20 games in the 47thQubicaAMF Bowling World Cup with 4903, a 245 average.
He takes over from our previous leader, Jason Belmonte of Australia, who commented;"I did not have a good day today, but that really makes me even more motivated to come out and bowl well tomorrow." Jason is on 4832, a 241 average.
The field has now cut to the top 24 who will play a further eight games before the cut to the top eight.
The lucky player to make it in24th place was Thomas Gross of Austria who finished 8th in St Petersburg in 2007. Thomas was just four pins ahead of Tomas Cibinskas of Lithuania who is the unlucky player to miss out. Thomas said: "I am just relieved to have made it to the next stage of the tournament. I'm a long way off 8th place but you never know and I shall certainly be trying hard tomorrow."
45 men averaged over 200 and the overall average itself was over 200 at 203.
20111204-1
Lucas Legnani of Argentina became the third person to shoot a perfect game in the 47th QubicaAMF Bowling World Cup yesterday. It helped move him up into 10thplace overall as the men seek to make the top 24 while also putting themselves in as good a position as possible to make the top eight.
Australian Jason Belmonte remains in top spot on 3755 – a 250 average - just 54 pins ahead of the USA's Tommy Jones. Kimmo Lehtonen of Finland is in third on 3567 and local player Francois Louw in 4th on 3544. Francois had the crowd on its feet when he had the first ten strikes but he finished that game with a 288.
Quietly sticking in there is Mykhaylo Kalika of the Ukraine. His coach, Ron Hatfield, who is from the USA, said: "I'm very pleased with the way he is playing. He is shooting consistently high scores and we are definitely looking for a place in the top eight and hopefully in the finals." In his two previous appearances in the Bowling World Cup, Mykhaylo finished 11th and 16th.
In total 45 men are averaging over 200. The cut for the top 24 is currently on a 215.8 average, Surasak Manuwong of Thailand, with Arni Geir Omarsson of Iceland hoping to make up the 10 pins he is off the pace.
20111203
Aumi Guerra broke the five game block record last night – and proceeded to break her own new record this afternoon (2nd December) when she hit 1304 over her five games. Her individual games were 278, 234, 267, 246, 279.
And that 1304 is only 3 pins shy of the men's record – 1307 held by Ahmed Shaheen of Qatar.
Aumi is now on 3721, a 248 average and 299 pins ahead of second placed Diandra Asbaty of the USA who herself hit 1166 today. Cherie Shi Hua Tan of Singapore is in 3rd on 3417 (1127 today) with Liza Clutario from the Philippines in 4th on 3324.
Other 1100+ scores came from Sweden's Sandra Andersson (1168) and Evgeniya Zelenkova of Russia with 1140. Evgeniya pulled herself up into the top eight with that score.
Aumi said afterwards: "I cannot believe it! I am playing better than last year but really I am just happy to be here." Even her coach, Craig Woodhouse was at a loss for words, just saying "Unbelievable! Unbelievable!"
The women now have just five games to go before the cut to the top 24. The cut is a 199.8 average, Rie Totsuka of Japan, but Luz Adriana Leal of Catalonia is only 13 pins behind.
23 women are averaging over 200 and the overall average for all 70 competitors in the women's section is 189. And despite all the high scores, Samy-Anna Saba's 288 still remains as the high game of the tournament.
20111202
Tommy Jones of the USA shot the tournament's second perfect game this morning at the Let's Go Bowling lanes in Johannesburg, venue for the 47th QubicaAMF Bowling World Cup.
The 300 helped Tommy to the high five game set for the day – 1273 – to give him a total pinfall of 2455, but he is still not head of the leader board as Jason Belmonte of Australia remains on top with 2535.
Kimmo Lehtonen from Finland is in third on 2395 with local player Francois Louw now up in 4th place on 2370. Francois just missed out on a place in the top eight last year in Toulon, France, and is looking to make amends for that this year.
The men are now half way through the qualifying block and the cut for the top 24 looks like being around a 214 average. On the cut at the moment is Mansour Al-Hajri of Qatar while in 25th is Michael Schmidt of Canada, the defending champion.
Michael commented afterwards: "I only have myself to blame for my poor bowling today. I'm actually embarrassed about the way I played. I threw the ball well for just one game and it showed – a 269. But we are only halfway through and there is plenty of opportunity to get up into the qualifying positions. After all, I only qualified in 7th last year but went on to win the title!"
20111201
Champion Aumi Guerra of the Dominican Republic made a great start in her attempt to become only the second person ever to successfully defend the Bowling World Cup title but after five games she lies second behind Mercedes Perez de la Losa from Argentina.
Mercedes is on 1157, a 231 average, with Aumi on 1145. Liza Clutario of the Philippines is in 3rd on 1124, with Luz Adriana Leal from Catalonia 13 pins further back in 4th place.
Twenty of the women averaged over 200 for these first five games. At present, the cut for the top 24 is Jennifer Park of Canada on 993, but the women still have another 15 games to play.
Aumi and Mercedes who are good friends are rooming together during the tournament. Aumi may be the defending champion but Mercedes has bowling in her blood: her mother, also Mercedes, was a fine bowler in the 1970s and 80s and won many championships. She even played in the World Championships in Milwaukee in 1979 and in Reno in 1991.
High game however did not go to one of the top 24 but to Samy-Anna Saba of New Caledonia with 288. More than that, it is her personal best game ever! Samy-Anna used to represent Egypt and in 2002 met New Caledonia's Marin Tranier at the 2002 QubicaAMF Bowling World Cup in Riga. They became more than friends and married in 2009 and Samy-Anna now represents her adopted country.
20111124
TeilnehmerInnen
20111008
TeilnehmerInnen

20111005
Aumi Guerra of the Dominican Republic will defend her title at the QubicaAMF Bowling World Cup to be held in Johannesburg, South Africa, from November 30th to December 7th, joining the reigning men's champion, Canada's Michael Schmidt. Anne-Marie Board, QubicaAMF Bowling World Cup Manager said: "This is amazing! It is only the second time in the history of the event that both reigning champions have returned and the other occasion was 1993 when the tournament was also held in Johannesburg!" The returning champions that year were Paeng Nepomuceno of the Philippines and Martina Beckel of Germany who had won their titles in Le Mans, France, in 1992. Only one player in the 46-year history of the event has successfully defended the title – Australia's Jeanette Baker in 1982 and 1983.
The bowlers for the host nation have now been nominated. They are Francois Louw and Marike van de Ber. Francois is a bowling centre manager who also competed last year in Toulon, where he was involved in a one game play off with Engleberto Rivera of the Philippines to determine the final player for the round robin. Francois lost on that occasion but will surely be looking improve on his 9th place now that the tournament is in his home country. Marika will be making her BWC debut.
Also making a first appearance in the event will be Haiti. Jean Edouard Nelson, President of the Haitian Federation told us about bowling in his country: "We have virtually nothing now. Our headquarters was located in Port-au-Prince, Haiti but was completely destroyed in the earthquake. We had six bowling centres before the earthquake but now only one a small centre in St Marc is left. It's a long way from the capital and our infrastructure has been very badly damaged, so it's difficult to get to. It will take time to rebuild the country. And don't forget, so many of us have lost someone – family members or friends." Anne-Marie commented: "Haiti's representatives will be Nathalie Sterlin and Jean Stephane, who is a 36-year-old journalist, and after all the country has suffered it will be a special pleasure to welcome them and all their delegation to Johannesburg."
The Swedish participants have just been announced and the Bowling World Cup will welcome another returning champion, this time Tomas Leandersson who won the title in Lisbon in 2000. Tomas has also acted as coach to the Swedish players in the past. Tomas also represented Sweden in South Africa in 1993, when he finished in second place. "We are so pleased that Tomas will be back as a player," said Anne-Marie. "He was with us last year as coach to the Swedish team and it will be great to see him back on the lanes." Tomas will face up again to another Scandinavian player who has excelled in the past – Kimmo Lehtonen, who reached the top eight in 2000,not to mention Steve Thornton from England (5th in 2000) and Thomas Gross of Austria (8th in 2007). For the women we will welcome back Krista Pollanen of Finland (5th in 2008) and Sophie Herbin of Monaco (8th in 1995). Also returning will be last year's Sportswoman of the Tournament, Bigi Manico of Switzerland, who will be making her 10th appearance in the event.
20110828
Vorlaeufiger Zeitplan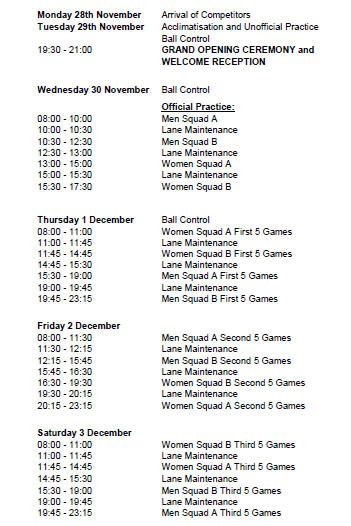 20110818
The two-time QubicaAMF Bowling World Champion (2010 Toulon, France, and 2005 Ljubljana, Slovenia), Michael Schmidt of Canada, has won his way through to defend his title this year in Johannesburg, South Africa. But he will face stiff competition from our 2007 (St Petersburg, Russia) runner up, the ever popular Jason Belmonte of Australia. And in the women's section our two protagonists from the 2006 final in Caracas, Venezuela, will be facing up again. Diandra Asbaty of the USA, our champion, will be making her second appearance in the event, as will Lisa John, of England, our runner up that year. It is all shaping up very nicely for a spectacular event this year.
QubicaAMF Bowling World Cup Manager, Anne-Marie Board, said: "I cannot wait for the competition this year! Just imagine: Michael and Jason, Diandra and Lisa – that is so exciting! And most countries have not declared their players yet."
The tournament is scheduled for November 30th to December 7th in the Northcliff Bowling Centre, owned by Let's Go Bowling South Africa. It will be the second time that the Bowling World Cup finals have been held in South Africa, the first time being in 1993.
Our host now as then will be Gerald Paluzzi, who commented: "We at Let's Go Bowling are very pleased to host this year's QubicaAMF Bowling World Cup. Every time I see an updated participant list, I get more excited. "And I also hope that many competitors will take the opportunity to see more of the wonders of South Africa. We have a lot to offer, especially with the Kruger National Park on the doorstep of Johannesburg."
We will also be welcoming back the Tranier couple from New Caledonia, Marin and Samy-Anna, who first met at the Bowling World Cup in 1992 and married in 2009. Steve Thornton will be the male representative from England who will be making his third appearance in the finals and who hit a perfect game in 2005. Jennifer Willis-Park will be the female representative for Canada, making her second appearance having finished 8th in 2008.
20110328
47th QubicaAMF Bowling World Cup
The 47th QubicaAMF Bowling World Cup will be held in the Northcliff Bowling Centre in Johannesburg, South Africa, the site of the 1993 event. The "Big Game" will start on Wednesday 30th November 2011 with the finals on 7th December. Making the 2011 announcement, CEO and President John Walker said how excited he is to be bringing the World Cup back to South Africa and that it will be a great event and every one of our guests will be glad they are there this year.
Our hosts, Let's Go Bowling South Africa, have added Northcliff to their chain of centres. It is a state-of-the-art 24-lane centre with the latest QubicaAMF equipment including Bowland our superior management and Conqueror Pro bowler friendly computerised systems, and the world's best, fastest and highest performance SPL lanes and XLi pinspotters. Gerald Paluzzi, head of Let's Go Bowling South Africa, commented: "It is a wonderful opportunity and a privilege to be able to host bowling's most prestigious tournament here in Johannesburg. Ever since we hosted the Bowling World Cup in 1993, it has been my dream to bring it back to South Africa. We are very much looking forward to welcoming the world's leading bowlers and we guarantee them, their supporters and visitors a most memorable event and experience."
Anne-Marie Board, QubicaAMF Bowling World Cup Manager, was also very pleased and said: "I am so happy to be able to take the World Cup back to Johannesburg. I know Gerald and all the team from Let's Go Bowling South Africa will look after us royally, as they did 18 years ago. That was my first tournament as World Cup Manager, so it has a special place in my heart."
The centre also boasts a pro shop which services the greater Gauteng Area along with top class coaching facilities. Gerald Paluzzi went on the mention the other attractions of South Africa: "This country has been one of the hottest properties on the world's tourist schedules and we invite one and all to avail themselves of the wonderful country and its people and experience unsurpassed African hospitality." South Africa's own Hall of Fame will open alongside the QubicaAMF Bowling World Cup to honour those who have contributed so richly to the development of the industry and sport of bowling in the country.
The Champions of 1993 were Rainer Puisis of Germany and Pauline Smith-Buck of England. Only one South African has ever won the title – Anne Jacobs who won in Hermosillo, Mexico, in 1994.
South Africa has a population of over 50 million, the most famous and revered of whom is undoubtedly Nelson Mandela, often known as Madiba, his Xhosa tribe name. It is a country rich in sporting heritage, boasting world champions in many sports and it hosted the FIFA World Cup last year.